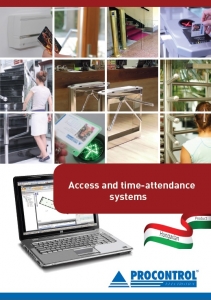 Access Control and Time-Attendance Systems
More than 30 years manufactures the Procontrol Ltd. access control and time attendance equipment for a wide range of application areas.
The systems consist of the following components:
- Access Control terminals
- Access Control software 
- Access Gates
The combination of experience, continuous development and the most modern remote manageable microelectronics makes it possible the manufacture of the most flexible access control equipment and the development of individual needs.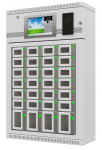 The ProxerSafe® Box value storage cabinets can be ordered with boxes in distinct size and number. They are suitable for keeping documents, key boxes, mobile devices and tools safe in an online traceable way.
VIDEO >  ProxerSafe® Box Intelligent charger cabinets
Access rights can be set per box and user. It can be monitored and logged who opened which box and when.
Chargers can be integrated into the boxes, so mobile devices, radios terminals can be charged while being kept safe. (See charger cabinets.)
Optional, integrated scales may help to detect presence of the given object; weight can be defined within a gramm.
The Procontrol Electronics Ltd. offers a wide range of intelligent and professional value storage and management systems; Clients can choose the most suitable built-up for their purposes.
Continue >>
ProxerSafe® Mini - small sized cabinets for offices and apartments
The ProxerSafe Mini cabinets may fulfil the same tasks as the KeySafe Lock, ProxerSafe Box or Combo cabinets, but in compact size with limited key plug and box number.
The cabinets, within the house's size, can be extended with modules. Key plug modules and box modules can be combined.
The ProxerSafe Mini cabinets are for keeping keys, key boxes, access cards, ID cards, smaller devices safe and manage them in a monitored, authorized way. Key holder plugs are identified uniquely using RFID technology, so they can be tracked and monitored one by one.
ProxerSafe Mini cabinets are perfect for office use, but in semi-outdoor design they can be used at apartment houses, hostels to hand over keys to guests with no receptionist present. (Cabinet opens with unique PIN.)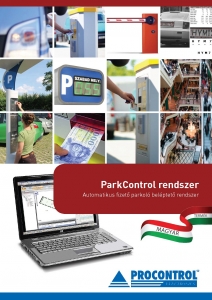 Complete payment parking system of automatic office buildings, camion park lots, malls, shopping centers. Can be integrated with hotel reception and personal access control systems. Ticketing machine is installed at the entrance, paying machine(s) inside and ticket checking machine at the exit. Public or private parking, single use barcode ticket or RFID proximity season ticket system are also available. Discount option, video surveillance, license plate recognition, occupance detector system and free parking space display is orderable.
Stand-alone park payment kiosks are also available: AutoPark30
Procontrol catalog – ProxerPark parking system chapter
ProxerPark paid parking system general description
Continue >>
The KeySafe and ProxerSafe system is an intelligent key management and storage system, which is for safekeeping, automated management of keys of buildings, cars and other valuables. The system combines key cabinets, cabinets with storage boxes, compartments and the management software.
The KeySafe® is a smart key cabinet, which allows a high safety key management with personal proximity card, PIN code, NFC or optional biometric identification. The cabinet locks each key one by one in the slots and lets noone to take any key, unless the person is authorized.
The cabinet can be managed via its touchscreen or from a remote computer; key traffic can be monitored and logs checked. It can be integrated into a building management system as well.
KeySafe, ProxerSafe presentation
ProxerSafe family - Intelligent key and value storage cabinets
 >  ProxerSafe® - smart key and value storage system video >>
 >  KeySafe® Lock smart key managent system video >>
 >  ProxerSafe® Box Intelligens charger cabinets
 >  ProxerSafe® Keep – smart baggage cabinets
 >  ProxerSafe® Box Medical - intelligent medicine storage video
 >  ProxerSafe® Weapon Rack VIDEO >>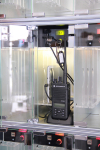 At certain workplaces, in factories, institutions  or even at festivals employees or visitors must be granted a central and guarded place to store their mobile devices, smart phones and other valuables. The solution provided by ProxerSafe Box does not require constant human presence, while access rights can be granted or revoked remotely in real time.
Using ProxerSafe Box not only the safe keeping of the mobile devices is covered but also they can be charged while stored.
VIDEO >  ProxerSafe® Box Intelligent charger cabinets
The solution is also suggested for museums, art galleries and exhibition halls. The visitors can collect the audio guides or tablets from the ProxerSafe Box  for a given period of time if certain conditions were met ( ticket type, payment).
The Procontrol Electronics Ltd. offers a wide range of intelligent and professional mobile device storage, charger and management systems; Clients can choose the most suitable built-up for their purposes.
Continue >>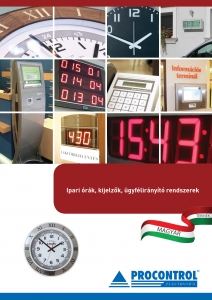 Intelligent industrial clocks, programmable displays: showing exact time, temperature, humidity, cycle time, for brake signal, shift signal, stopper, countdown function, factory production displays, available even in custom designs.
In hallways, warehouses, production halls are often necessary to see exact time, loading cycle time, to monitor production processes by the employees. Many companies want to ensure that all workers take up, give off the work on exact time and keep the breaks in accordance with regulations. Centralized GPS clock network is often required.
All this need is ensured with modern technology by the programmable, electronic industrial clock and display family of Procontol. It can be used in a number of areas, with additional units individual needs can be fulfilled. The built-in microprocessor-based control electronics can be connected to remote control, IT network (eg. Ethernet, Internet).
Time / temperature display
Cycle time / shift signal functions area available
Centralized GPS Clock syncronized system, can be time resource of NTP server
Stopper and countdown functions
Wireless remote control is available (option)
Exclusive glass, industrial indoor and outdoor versions, even IP65 weatherproof and cleanroom designs is available
Sound signal option, intelligent IP and RF speakers
Seven segment digit (digits)
Dimmable, controllable brightness intensity, adapting to the installation location
RS485 / RS422 max. 128 units in a network, optional Ethernet interface IEE802, wireless radio, USB port
Continue >>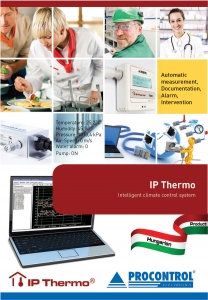 The uninterrupted climate control of server rooms is extremely important, because the expensive equipments and instruments used need the optimal temperature and humidity. In case of water detection the prompt reaction and intervention is neccessary. The IPThermo system supervises the threshold limits, and in case of exceeding the limit, alarms via E-mail or SMS, while records the measured values centrally.
Features:
• Web remote access, IP-based smart metering system
• Automatic centralized measurement
• Measured values are central automated monitoring, logging, graphing
• Temperature, humidity, air pressure, air velocity, voltage measurement, water detection etc. sensors are available
• Reliable monitoring
• Measured values are published on a web page
• Limit monitoring, E-mail / SMS / PC Alarm
• Intervention with relay control, power-authorization
• Status and system error alarm - Watchdog function
• Off-line, Stand-alone and/or online operation without PC
• Calibration with standard thermometer accredited by the National Accreditation Board
• Validatable software
• Depending on the model, Telnet, Web, http, TCP port, SNMP protocol, PDD, UDP port is available for easy system integration
Continue >>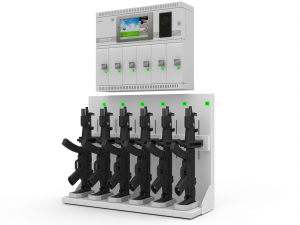 Rifle Storage system
The WR6 modular weapons storage system has been designed for rifles, especially for military, police and armed forces types. It has stable, modular steel frames with components to accommodate the weapons and sensors for a secure access control system. One ProxerSafe-WR6 contains six units that can be connected several times together to build a scalable system.
This open system can be mounted on wall, installed in Universal Weapons Rack or on a cart. Components ensure that weapons can be stored with optics for quick and easy deployment. Every slot is equipped with a presence sensor, an electronic cuff lock that keeps the weapons individually safe.
All the weapons are identified by RFID tag and the system keeps track of the weapon usage down to a user and access time level. The system contains one or more embedded computers with built-in UPS and backup battery that ensures operation also in a power outage situation.
A connected and controlled box cabinet can be used to separately store magazines.
The system is tamper proof and various alarm possibilities are available based on triggered events.
 >  ProxerSafe Weapon Rack VIDEO >>
The KeySafe Lock is an intelligent safety key cabinet, which can be opened only by personal RFID proximity transponder, or by fingerprint identification, optionally. The cabinet is able to run independently through its touchscreen operated embedded industrial computer. A cabinet connected to network can be controlled remotely, setting who is allowed to take which keys, when and for how long.
The KeySafe Lock does not allow to take any keys, just those, which the person is entitled for.
More cabinets can be connected to a single data cable, monitored and managed with the ProxerNet KeySafe Software (a Windows application) or ProxerSafe WebAccess web app, and integrated into a building management system as well.
 >  ProxerSafe - smart key and value storage system video >>